Your movement, balance, and traction can negatively be affected in the workplace when climbing up and down ladders and standing for extended periods wearing the wrong pair of boots. It can change your stance and gait, forcing the spine and pelvis to an abnormal position. Thus, a bad pair of shoes can cause back pain.
That is why wearing the best work boots for back pain is necessary to remain active throughout the day. Good shoes for bad back are supportive, comfortable, and reduce pain from your back to let you stay healthy.
But all boots are not built the same. Also, finding the proper pair can be difficult as many choices are available. In order to save your valuable time and effort, I researched the market and showed a list of shoes for a bad back in this guide.
Can Work Boots Cause Pain?
Yes, work boots can cause pain. Although work boots are efficient in preventing particular feet and ankle injuries, other problems may also arise. Inflexible insoles, rigid fit, and raised heel can contribute to back pain.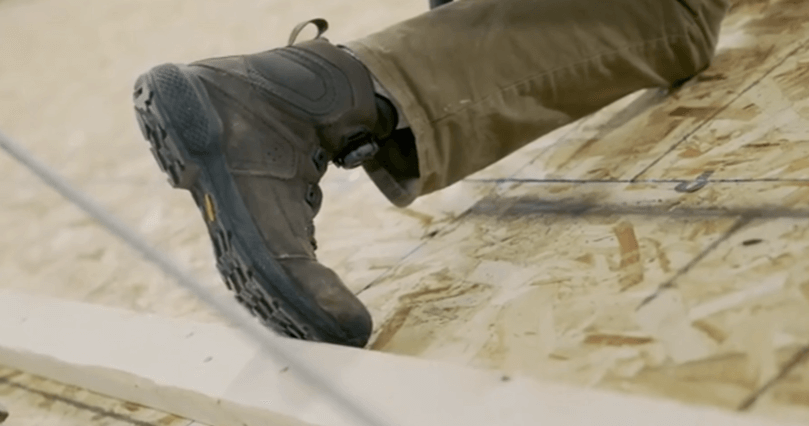 Rigid movement restricts the natural movement of your ankle. Also, your body weight will get distributed unevenly with high-heeled boots.
Let's read how boots can cause pain.
Poor Arch Support: Your foot will roll inward when walking after wearing boots with bad arch support. Thus, the boots put much pressure on your back, causing severe muscular spasms.
Tightly Fitted Boot: A tight work boot will make you uncomfortable and cramped. This will lead you to calluses and blisters.
Bulky Boots: You will feel difficult to move your feet around wearing a pair of bulky boots. Carrying heavyweight boots is really troublesome, which also can cause ligament sprains and muscle strains.
Heightened Heel: High heel boots put a lot of pressure on your spine, causing lordosis. This is a condition where the vertebrae in your lower back curve forward.
Rigid Sole: Gripping on different grounds will be challenging with rigid and hard sole boots. Moreover, the risk of slipping and falling will increase. Bruises, back pain, and other injuries may happen.
Work boots need to be comfortable and well-fitted to prevent back pain.
Causes of Back Pain
Back pain can be caused due to many different conditions and illnesses. Common explanations are included below,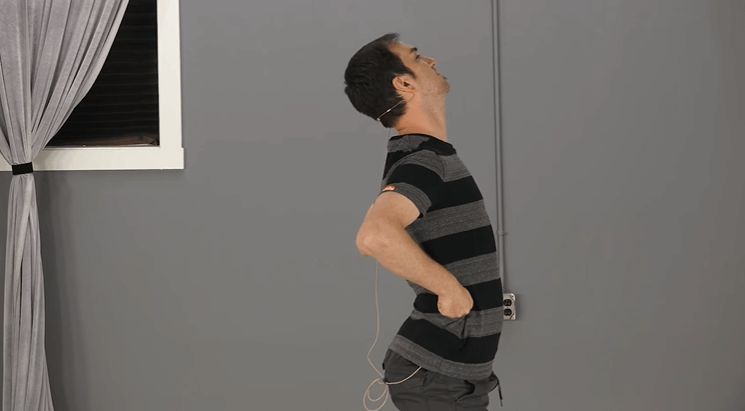 Lifting something improperly
Strained ligaments or muscles
Damaged discs
Accidental or sudden fall
Lifting heavy items
Making awkward movement
Standing for long hours wearing improper boots
Long drives without a break
Over-stretching
Working for extended periods in poor posture, especially when using a computer
A muscle spasm
What to Look for in a Work Boot to Prevent Back Pain – Buying Guide
Considering the root cause, it is important if you suffer from back pain at work. The general reason is the improperly fitted boots.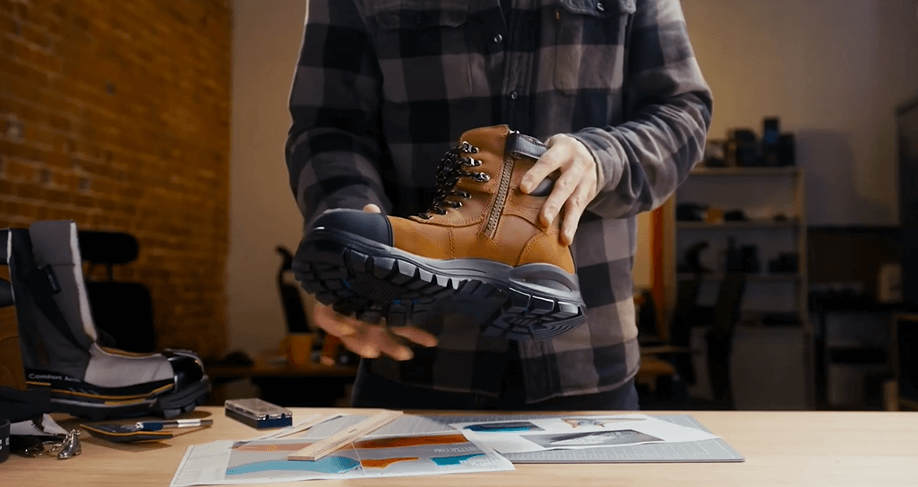 When buying the best work boots for back pain, there are a few aspects to consider.
Comfort
A good fit is always important, and you must not compromise on the fitment of the boots. If you buy it online, you must wear it after receiving it. Also, don't be afraid to return due to poor fitment.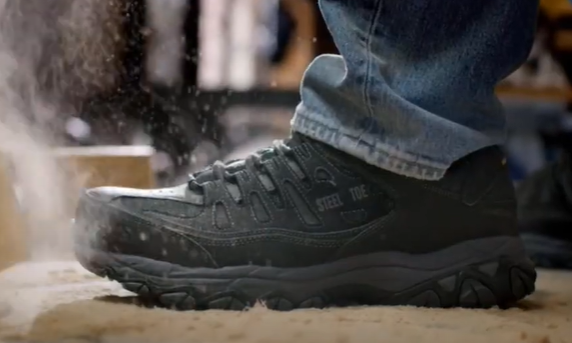 Leather is a tough and abrasion-resistant material. Initially, the leather boot can be stiff. For sensitive feet, it would be best to buy oil-tanned leather.
EVA foam, orthotic, or gel insoles come with different layers of cushioning. A few boots for lower back pain feature memory foam that molds the shape of your foot.
Outsoles must be designed to absorb shocks and impacts. At the same time, the outsole should provide enough grip on different grounds.
Support
You can avoid muscle tears and twisting injuries with a supportive pair of work boots. Some models come with additional support in the vulnerable ankle area. These boots are specifically beneficial for this who work on uneven surfaces.
Arch support is provided in the form of fiberglass, nylon, and steel shank while maintaining flexibility. At the same time, these work boots resist torsion. Wearing these boots, you can conveniently climb ladders or stand in the workplace for prolonged hours.
Protection
The prime reason for wearing work boots is to protect the feet from different injuries. Wearing work boots is mandatory in many workplaces.
Falling objects can severely injure your toes. In such cases, the toe box made of steel, non-metallic composites, and alloy can save your feet from falling objects. Also, choose a model that meets or exceeds ASTM certification. Make sure the certification seal is clearly mentioned.
Construction
Boots construction is another essential factor to consider. Work boots are manufactured using different materials. More importantly, different materials are meant for different workplaces. A durably constructed work boots will help you improve efficiency and productivity at your job site.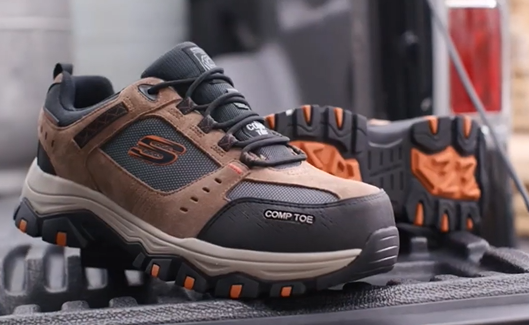 Here are the main considerations of well-constructed boots,
Upper construction of the boots
Insoles material
Outsole design and material
Bottom shape and construction of the boots
Careful considerations of the above points will help you buy durable work boots for back pain. Also, remember that durable work boots focus on reducing back pain.
8 Best Work Boots for Back Pain Reviews 2023
Here I reviewed 8 models of shoes for bad back that have proven the most helpful for people with back trouble. Compare the features and see which one fits you the best.
1. Best Overall: Red Wing Men's Iron Ranger 6" Boot
The word 'classic" is the first word that comes to mind when looking at the Red Wing Men's Iron Ranger 6" Boot. This pair is undeniably beautiful but simple, tough but subtle. Toecap is the defining feature of these boots, making them dedicated work boots for heavy-duty jobs. Premium quality leather and durable stitch-down welt construction allow years of comfortable wear. Moreover, it minimizes back pain by providing arch support and promoting natural foot movement.
| | |
| --- | --- |
| | |
| + More colors | + More colors |
| Available Size: 7-13 | Available Size: 7-13 |
Red Wing Men's Boot Features & Benefits
Optimal Arch Support: The overall fit of work boots significantly depends on the shafts of the boot. Happily, the shaft of this boot measures a 6.5" high arch, offering great arch support. Tall shaft work boots are well-known for protecting the ankle and shin from hazards and different abrasions. These boots are less restrictive and relieve pressure on the shin bone than other taller boots. A 6.5" taller shaft impressively makes it trendy and practical, allowing you to go from work to the office or out on the town.
Leather Insole: These work boots feature leather insoles, keeping your feet comfy when standing or walking in the workplace. In fact, your foot, leg area, and back will get relieved due to leather insoles. It also focuses on eliminating pain from the metatarsal region and heel area. Moreover, ample cushioning is available in the insole, providing an astounding feel if you prefer wearing thin socks. Furthermore, the insole absorbs and distributes impacts and shocks to let you feel less fatigued.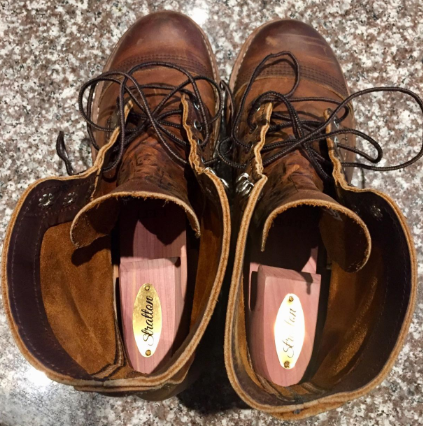 Steel Shank: Along with the 6.5" shaft, these boots also come with a steel shank, providing enough support in the arch area. Due to the steel safeguard, your feet will be protected from punctures. Also, if you frequently go up and down ladders, it minimizes the impacts. Its steel shank is a thin piece of metal that is flexible while ensuring stiffness. As a result, falling objects can't harm your feet. The steel shank helps to protect the shape of your feet.
Double Layer Toe Cap and Double Stitching: While providing the required toe protection, the toe cap gives your boots a high mirror shine. The toe caps are impact and load resistance. They are much more efficient in resisting impacts when heavy falling objects impact the front most. Double stitching confirms a tighter seal around the welt, sole, and midsole, making the boots much more impervious to the elements. You will barely experience frayed yarn after wearing these boots for many years.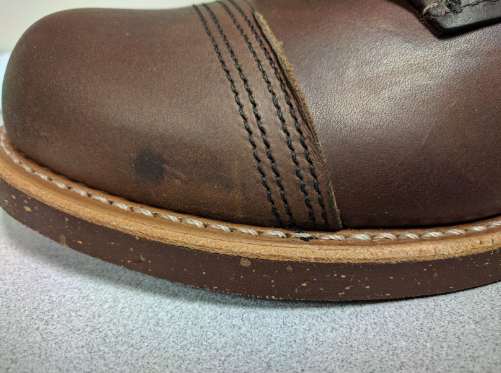 Metal Eyelets and Speed Hooks: Metal reinforces the eyelets, protecting the upper shoe structure and avoiding damage. The eyelets hold the shoelace in place, permitting you to fit the boots easily according to your comfort level. Being reinforced with metal, the eyelets are more durable than fabric eyelets. Moreover, metal eyelets reduce the risk of tearing eyelets when binding the laces. Besides, the boots feature speed hooks, letting you wrap the laces around each hook.
Nitrile Cork Sole: Mixing some pieces of cork with rubber makes a cork nitrile sole. Thus, the rubber saves some weight on the sole without compromising its durability. At the same time, the mixture makes the shoe sole resistant to water and oil, hard, flexible, and environment-friendly. Characteristically, cork insoles lack a thread, so nothing will stick in your soles, even ice or snow.
Waterproof Boots: These are leather-constructed boots, withstanding water to a degree. You will not have trouble walking wearing these boots in normal rain or snow conditions. Treating them from time to time with a leather conditioner would be best. Frequent conditioning will help the leather prevent cracking and fight the water. They are extremely easy to clean with a soft, damp cloth.
Why Should You Buy It?
They are excellent work boots providing excellent comfort and durability. Also, the high shaft and steel shank work together to minimize back pain. You will rarely feel back pain when standing or walking in the workplace wearing them. Premium materials and better features will last for a long time. Everything looks great and feels good in these boots.
2. Best for Standing Long Hours: Z-Coil Pain Relief Footwear
Do you spend a lot of time on your feet in the workplace and feel back pain? Wear these Z-Coil Pain Relief Footwear and get relief from back pain while standing or walking for long hours. These boots are specially designed to relieve foot, leg, and back pain. Many customers claimed that they had suffered back pain for years before wearing these boots. They tried a variety of footwear with extra arch support. Finally, these shoes help relieve back pain, and they noticed little to no pain wearing them for several years.
| | |
| --- | --- |
| | |
| + More colors | + More colors |
| Available Size: 8-13 | Available Size: 8-13 |
Z-Coil Footwear Features & Benefits
Patented Spring Coil: Each step will be safer and softer as the shoes have a patented spring coil in the heel. The spring absorbs more than 50% of shocks compared to a conventional sole. It mimics your foot shape, evenly distributing pressure across the bottom of your foot, lessening fatigue and pressure points. So, you will never feel foot, leg, or back pain. Strategically designed coil spring applies tension to the first end portion in a direction to automatically close the ankle strap.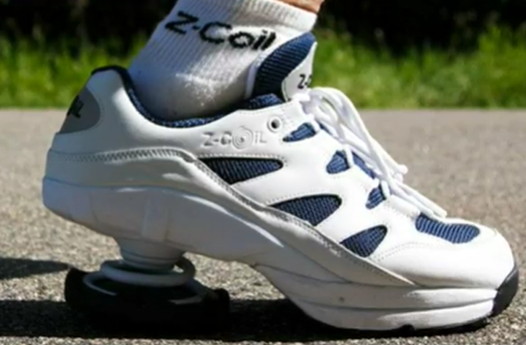 Built-in Rigid Orthotic Insoles: A rigid orthotic insole is used in these boots to limit abnormal movement of your foot. You will get more stability when walking in the workplace. The insoles provide excellent arch support and control for flexible deformities and are pretty durable. Moreover, they help you correct an abnormal walking pattern. Simultaneously, the insoles correct the alignment of your back and legs, minimizing paint on the feet and back. You can easily walk, run or stand due to the comfortable insoles.
Long-life Outsole: The outsole is made of rubber. Because of the rubber construction, these boots become slip-resistant. Rubber is also oil and water-resistant naturally. So, you can roam around your workplace regardless of the surface type. The overall construction of the boots is 100% leather, making them much more durable unarguably. Leather has excellent breathability, allowing body temperature to be regulated. Also, the boots will absorb and hold moisture away from the skin. In addition, the breathable mesh upper provides enough air circulation into the boots.
Extra Padded Collar, Tongue, and Lining: Improved ankle support is confirmed with these work boots for their extra padded collar. The collar keeps loose dirt, sand, and pebbles out of your boot. Also, it allows snug-fitting in different foot sizes. Moreover, the boots feature a padded tongue, gently pushing your foot back in your boots, preventing heel slippage. Such construction provides increased layering protection from shock or trauma to the vulnerable lower foot regions. Included padded lining covers the inside seam of the boots, extending the boot's lifespan.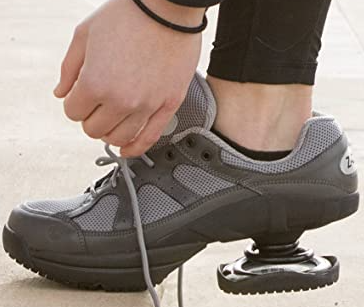 Reinforced Toe: A reinforced toe box area is much more efficient in protecting your forefoot and toes. This makes them more suitable for the workplace. Moreover, it is designed so that you can easily work kneeling. Furthermore, a reinforced toe protects the feet from hazards like heavy objects. So, these boots perfectly perform as a piece of personal protective equipment at many construction and industrial worksites. You can wear them in tougher conditions.
Replaceable Coils & Insoles: If you ever need to replace the insoles and coils, these work boots permit you to do so effortlessly. Replaceable coils ensure prolonged years of service from the boots. Besides, the insoles also come with a replaceable feature. The most significant benefit of replaceable insoles is it lets you adjust the fit to walk or run comfortably. In fact, replaceable insoles make your boots so comfy that you will feel less strained in your feet.
Why Should You Buy It?
You will experience a prompt reduction of pain in your muscles, back, joints and bones after wearing them. Contoured orthotic insoles resist twisting by ensuring excellent balance and stability. These are suitable boots for those suffering from spurs, metatarsalgia, plantar fasciitis, etc. The materials make walking enjoyable, pain-free, and easy.
3. Best Lightweight Work Boots: KEEN Utility Men's Dover 6" Work Boot
Low heightened heel, decent ankle support – these features of the KEEN Utility Men's Dover 6" Work Boot reduces back pain quite effectively. They also come with waterproof leather uppers and an interior membrane. Removable insoles accept orthotics and these boots feel extremely comfortable. You will not feel pain in your leg or back at the end of the day. Moreover, they will let you walk, climb, on and off equipment, bend, etc., in the workplace without worrying about back pain. Wearing them, you can walk through mud, dirt, acid-based chemicals, etc.
| | |
| --- | --- |
| | |
| + More colors | + More colors |
| Available Size: 7-15 | Available Size: 7-15 |
KEEN Utility Work Boot Features & Benefits
Low-height Heel: The raised heel is one of the prime reasons for back pain. You will love to know that these boots are designed with a low-heightened heel, helping you avoid problems with the metatarsal bones. Also, a lower heel means a more natural foot position. Additionally, low-heeled boots minimize the body's stress while providing support for your feet. Climbing up and down ladders will always be a stable task. Moreover, your feet will get greater ankle stability, and the boots will be comfortable.
PU Midsole: Similar to other premium-quality work boots, they also consist of a high-end PU midsole. This feature makes them a deal-breaker indeed. Due to the PU midsole, they become comfier than conventional boots. The material ensures stability and lasts a long time. Other benefits of the PU midsole are they don't compress over time and are lightweight. Thus, you will get more support from the boots for long hours without worrying about back pain. They excel in performance and are slip, water, and oxidation resistant.
Non-marking and Non-Slip Lug Sole: Lugged rubber outsole comes with a non-marking and non-slip feature. So, walking through oily, muddy, or wet surfaces will never be an issue. Happily, the boots meet or exceed ASTM F2913-17 SATRA non-slip standards. The outsole is basically soft rubber that doesn't leave scuff marks on the surfaces like synthetic or wood. In fact, the outsole provides improved foot movement, better grip, and a perfect fit. Moreover, the non-marking feature guarantees comfortable landings, permitting you to climb up and down ladders without causing an accident.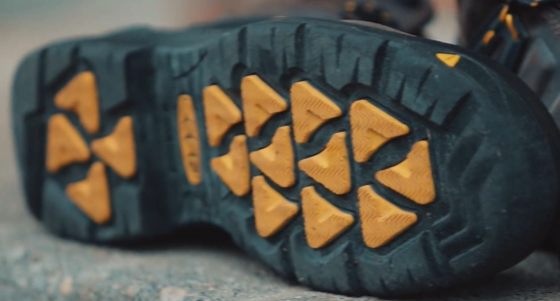 Asymmetrical Toe Box: After putting on these boots, you will experience that your feet feel free. It is because of the asymmetrical toe box, which doesn't lock your feet inside the boots. This way, the natural splay of your feet is promoted in these boots, which is good for your feet' health. The tip of the toe box stays directly over the big toe because of the combined performance of the asymmetric curve and aggressive downturn. In fact, the asymmetrical toe box is really helpful in preventing pain in the knee, foot, and back.
Konnectfit Heel Capture System: Konnectifit heel capture system is not a marketing gimmick for these boots. This innovative technology is significantly helpful in reducing back pain. The system pulls your heel back into the boots and locks it in place to minimize unusual foot movement. This locking system confirms the most secure fit, giving you the freedom the navigate different places on the job site. At the same time, it prevents your heel from sudden slippage. Sucre fit eliminates fatigue and long-term pain in the leg, joints, body, and back.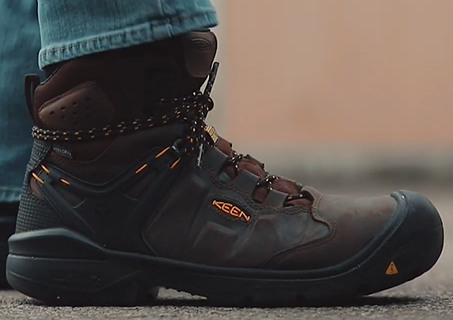 Breathable Membrane: It features a breathable membrane to give you the utmost comfort. The breathable membrane keeps water out and allows moisture to escape. This breathability keeps feet dry and cooler for more comfortable wearing. Impressively, you will hardly experience blister or hot spot issues with these boots.
Why Should You Buy It?
They are super lightweight boots, perfectly fit and feel great. Its midsole has more cushion, keeping your legs, feet, and back less strained by the end of the day. You can wear these work boots on grass, concrete, asphalt, and other outdoor landscapes. They are well-constructed and grip incredibly well than other work boots.
4. Best for Demanding Environments: Timberland PRO Men's Boondock 6" Work Boots
Durable and functional – these features perfectly go with the Timberland PRO Men's Boondock 6" Work Boots. They are designed for outdoor uses and demanding environments. Shock absorption, high shaft, and anti-fatigue technology maximize comfort and reduce pain in the legs and back when you are on your feet for prolonged hours. The manufacturer sets a new industry standard regarding craftsmanship and creativity.
| | |
| --- | --- |
| | |
| + More colors | + More colors |
| Available Size: 7-14 | Available Size: 7-14 |
Timberland PRO Work Boots Features & Benefits
Anti-fatigue technology: The innovative anti-fatigue technology reduces the impact with the help of shock-absorbing cones. It compresses to extend support and minimize foot fatigue. The geometrical technology of these boots returns impacts and shocks to the foot, delivering all-day comfort and support. This means you will not feel pain or fatigue in the back when standing long hours on your feet. The boots provide maximum support in major pressure points such as the ball and heel portion of the foot. In fact, it will prevent your feet from hurting at the end of a hard day standing on concrete or grating.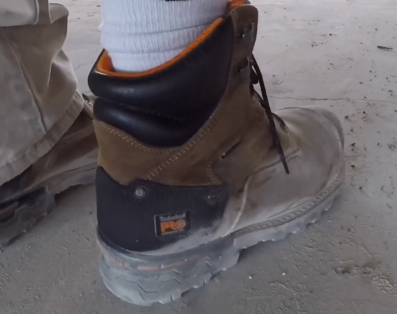 Lightweight & Cushioned Midsole: Its midsole is lightweight and well-cushioned for optimum comfort. Also, a fingertip pull-on feature is available in the boots for convenient entry. Moreover, the fiberglass shank offers structural support. Fiberglass shank is softer and more flexible compared to steel. So, moving around your workplace will be more convenient with these in place. For its lightweight construction, they shift excessive pressure off your feet as you stand or move around for hours. Hence, you won't sprain your back, knees, or ankles.
Robust, Rugged, and Hardy: Rugged materials are used in constructing these work boots. Their ruggedness and robustness confirm their ability to do without all sorts of conditions. These boots are designed to give you many years of service, eliminating the requirement of buying a new pair constantly. Being made of robust materials, it is clear that they will protect your feet from falls, slips, punctures, and cuts. Even moisture and washing can't damage these boots, making them easy to maintain. These durable boots provide the required amount of protection all the time.
Synthetic Sole: The synthetic sole is generally a mixture of EVA and PVC. This sole type resists abrasion and water efficiently. Scuff marks are not predominant due to the synthetic sole. They perform well as a shock absorber and come with high elasticity. The comfort of the sole is amazing, even when walking all day. Water stays out, and they keep your feet warm. Traction is excellent on all surfaces and terrain, even on snow. Overall, the outsole is less slippery and intends to slick a little on the wet surface.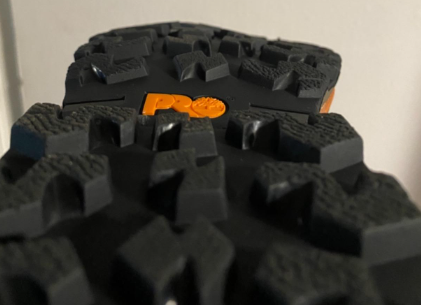 Safety Features: The boots are equipped with several safety features, such as a fiberglass shank, electric hazard resistance, and a composite toe. Its fiberglass shank provides the necessary protection from sharp objects on the surface, but the sole is certainly not waterproof. They are designed with a composite safety toe, offering a spacious fit and non-metallic protection. Besides, forefoot stability and flexibility are guaranteed because of the cement heel built. Additionally, it has a PRO rubber toe protector for improved durability.
Waterproofing / Insulation: These are exceptionally waterproof boots. Boondock scores full marks in terms of blocking water into the boots. Treated leather is used in the upper, allowing you to wear them in light rain. Impressively, it has a waterproof membrane, letting you stand 24 hours in a few inches of water while keeping your feet dry. The capability of insulation is also quite satisfying. It is a good all-year-round boot, providing needed insulation in a relatively moderate climate.
Why Should You Buy It?
Timberland boots are well-known for their ruggedness and comfort. These boots are also no exception. It combines style, comfort, and safety. Well-cushioned midsoles resist impact and shocks effectively to keep your back, legs, and body pain-free. Although they are pretty expensive than other conventional models, their pros and long-lasting performance make them worth the price.
5. Best for Heavy-duty Purposes: Cat Footwear Men's Diagnostic Waterproof Work Boot
Featured with many heavy-duty characteristics, including robust and flexible rubber outsole, steel toe, and removable EVA midsole, these work boots will significantly protect from electric hazards. EVA midsoles will ensure comfortable standing and walking for several hours without back pain. It is designed to give day-long anti-fatigue benefits. Ultra-tough built renders superior durability while maintaining the necessary flexibility.
| | |
| --- | --- |
| | |
| + More colors | + More colors |
| Available Size: 7-14 | Available Size: 7-14 |
Cat Men's Work Boot Features & Benefits
100% Leather: The biggest benefits of 100% leather boots are they are impressively long-lasting, and these boots are also no exception. Characteristically, leather is resistant to crack, abrasion, splitting, and tear. This means it would be an ideal choice if you are looking for a pair of boots for life. They are relatively easy to clean after getting dingy. Restoring the leather-like new condition will be much easier by cleaning it with a gentle, leather-safe conditioner and a non-abrasive brush or cloth.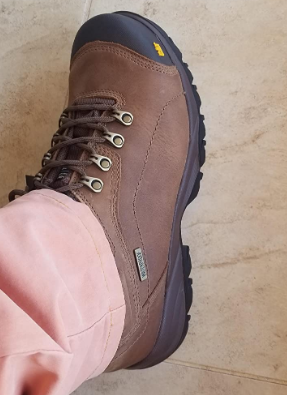 Removable EVA Foam: EVA is well-known for its highly durable and robust characteristics. Also, it is lightweight and comfortable, not adding extra weight to your feet. Moreover, this foam is less clunky and pliable, allowing better foot movement and more comfortable wear. Furthermore, EVA foam absorbs shocks and impacts efficiently when walking or running. So, pain in the back, joints, and legs will not be felt while ensuring excellent outsole support.
Gel Technology: Unique gel technology increases the ability to help the wearer deal with stability, twists, and impacts. This technology is beneficial in 3 different ways. It enhances comfort by minimizing shock and increasing impact absorption, providing a better feel during and after the runs. In addition, the gel formulation assists wearers in staying balanced and sure-footed. Also, these boots support the wearer of different running styles and classes. In fact, with this technology, these boots are dedicated to improving your performance and comfort.
Industry-rated Steel Toe: Steel toes are efficient in preventing a wide range of foot injuries from falling objects. These boots have industry-rated steel toe tested by dropping 50 lbs. of weight from 3 ft. height. You will love to know that hardly anything will be able to pierce the outsole of these shoes. The work boots set new safety standards for protecting feel from falling things.
Best-in-Class Slip-resistant: These are best-in-class slip-resistant work boots made of rubber soles. Wearing them, you can visit different work surfaces without worrying about accidental falls, trips, and slips. In fact, it improves your safety in the workplace. The multidirectional grip tread minimizes the risk of slippage and falling. Moreover, you can easily clean the tread with water.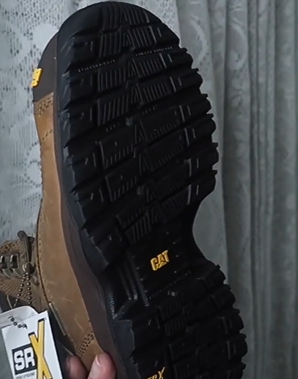 200g Thinsulate Insulation: Thinsulate fiber is used in these boots to make them Thinsulate boots. This feature's prime responsibility is to keep you warm but not overheated. More importantly, 200g of Thinsulate insulation resists water effectively, keeping your skin and feet dry. Interestingly, Thinsulate materials can easily be washed in your washer, making the boots more convenient than dry-clean only boots. This feature also works well for reducing friction and moving moisture.
Antiqued Lacing: The prime benefit of antiqued lacing is that the boots will not restrict the movement of your upper, giving you a better fit. These boots are firmer and maintain their fit for many days. They can easily be adjusted according to your comfort level in the workplace. Also, the lace-up closure will give you better ankle support for an extended period. In fact, this boot offers better joint support and stability.
Why Should You Buy It?
Robust construction makes these boots suitable for heavy-duty purposes. Thin sulate insulation and removable EVA foam perform together to give you comfort walking and running. Also, all features aim to minimize back pain and fatigue in the legs and joints. Shock-absorbing footbed and steel toe cap give utmost protection from different foot injuries. Also, it breathes well for better comfort.
6. Best for Lower Back Pain: Georgia Boot Men's 8" Safety Toe Logger Boot
Are you looking for a durable and rugged logger boot for your workplace? Don't look further; buy the Georgia Boot Men's 8" Safety Toe Logger Boot. Tough full-grain leather upper can withstand the toughest work conditions while providing the required breathability. Also, steel shanks and toes are necessary to keep your feet injury-free. Also, chafing is effectively prevented due to the comfortable padded collar. This comfortable footwear is designed for physical demands on and off the job.
| | |
| --- | --- |
| | |
| + More colors | + More colors |
| Available Size: 7-15 | Available Size: 7-15 |
Georgia Logger Boot Features & Benefits
Full-grain Leather Upper: Full-grain leather is one of the best types of leather available in the market. These boots are made of this highest-quality material, giving the wearer superior durability and flexibility. It is resistant to wear and tear for such construction. Moreover, the toughness and durability make this pair suitable for rough and heavy use. Furthermore, these boots deliver long-lasting performance. It is suitable for insulation, protection, and most working conditions.
8" Shafts: If you need extra foot protection, these boots are promised to deliver with 8" shafts. Boot shaft height is the prime benefit of these work boots. For this reason, you can wear them in different outdoor activities where your legs would be exposed to animals, scratches, etc. In terms of comfort and flexibility, they are also unbeatable. Some wearers have heat issues in the ankle and its 8" shaft exceptionally provides the required support to have a comfortable long-wearing period.
Steel Shanks & Steel Toe: It has multiple safety features, such as a steel shank and toe. Because of the steel shank, your feet will be protected from hazardous conditions, especially the underside of your foot from puncture wounds. Moreover, the steel shank will help maintain the shape of the boot. Furthermore, it doesn't add a lot of weight to the boots. Additionally, this footwear features steel toes to help prevent injuries due to sudden falls or slips, punctures, burns, and lacerations or cuts.
Polyurethane Orthotic Insert: The boots have a polyurethane orthotic insert, giving them the capacity to absorb high shock and impact. Its insert is made of foamy material, including elastic memory. Such design allows excellent contact with the arch and heel, relieving lower back pain, plantar fasciitis, arch pain, and heel pain. The insert helps you maintain the proper alignment between your foot, ankles, knees, and hips so that you can move normally when walking and running—ideal for workers who spend all day on their feet.
Gore-Tex Liners: You will get trusted comfort and protection from this footwear, consisting of Gore-Tex Liners. The specialty of Gore-Tex fabric technology is the ultimate weather protection. Durably waterproof, windproof, and supremely breathable. This system allows you to stay outdoors for a long time without discomfort. Gore-Tex fabric is sandwiched between the inner liner and the outer shell, letting the moisture escape easily. As a result, you will feel drier when active and warmer when it is cold.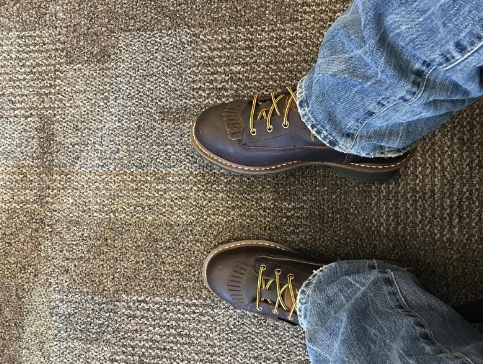 Lightweight & Waterproof: Wearing lightweight boots is significantly beneficial. Although it has an 8" shaft, they are incredibly lightweight. Thus, wearing these work boots 8 hours a day, 5 days a week, will never be troublesome. More importantly, you will never experience back pain, sore legs, or other leg problems like plantar fasciitis. Simultaneously, the boots shift extra pressure away from your feet, assisting you to stand or walk around for long hours without foot pain. This means flexible movement is facilitated with these boots.
Electric Hazard Protection: You will love to know that with these boots on your feet, no harm can happen to electricity. It features electric hazard protection, meaning they provide a secondary source of protection for you from electric shocks. However, they are not good at providing the necessary electrical protection in a wet environment.
Why Should You Buy It?
These versatile work boots let you work in many working conditions, including trudging through mud, sand, and snow to climb telephone poles, standing in tall water for hours, etc. Simultaneously, the polyurethane orthotic inserts give you relief from back pain. Overall, these are good value steel toe boots that can serve a multitude of purposes.
7. Best for Comfort: Reebok Men's Rapid Response Military Tactical Boot
The Reebok Men's Rapid Response Military Tactical Boot is equipped with several features available in premium-quality work boots. But it is easier for the pockets as well. It is made of tough and rigid materials. Also, from the initial wearing, this pair is comfortable, which means they are supple from day one. Good arch support less-heightened heels perform greatly to minimize back pain and other strains. Your foot will flex naturally to give you ultimate comfort.
| | |
| --- | --- |
| | |
| + More colors | + More colors |
| Available Size: 6-14 | Available Size: 6-14 |
Reebok Tactical Boot Features & Benefits
Suede Leather and Ballistic Nylon Upper: Its upper is made with a blend of suede leather and ballistic nylon. Generally, ballistic nylon is breathable compared to rubber. Therefore, your feet will not be soaked with moisture inside the boots. Ballistic nylon is also well-known for its durability and waterproof characteristics. For this reason, it is one of the top choices for manufacturing work boots. Moreover, the suede leather gives a textured and soft feel and offers minimal maintenance.
Traditional Lace-up Design: This footwear maintains its fit for longer due to the lace-up design. If they loosen, you can adjust them immediately without hassle according to your fit. Also, these boots offer the best ankle support for the lace-up design. Proper ankle support reduces pain in the back, foot, and legs. Laces ensure a tight and secure fit, making it ideal for work that requires frequent movement, running, and even changing directions. They focus aesthetically on your comfort level and ease your foot into the boots.
Padded Tongue and Collar: Superior comfort is achieved with the padded tongue and collar features. These boots are built for comfort and are made for work. Needed ankle support is confirmed with the padded tongue and collar. The padded tongue gently pushes your feet into the shoe to eliminate the risk of slippage. Also, it prevents laces from rubbing against your foot. Due to the extra padding, the tongue prevents pain caused by excess pressure in your shoe. Completing heavy work on the job site will never be an issue when you have these boots.
Dual-density Mountain Trail Rubber Bottom: It features a dual-density mountain trail rubber bottom that is effective enough to absorb shocks by transferring impacts from the high-impacted areas. The dual-density bottom is a firmer and softer section for shock-absorbing performance. This way, you will hardly feel fatigued or strained in your legs or back. Moreover, the bottom provides the required traction and grip, allowing you to walk or run different surfaces without worrying about slippage. These are high-density advanced rubber bottoms for the highest durability and extreme adventures.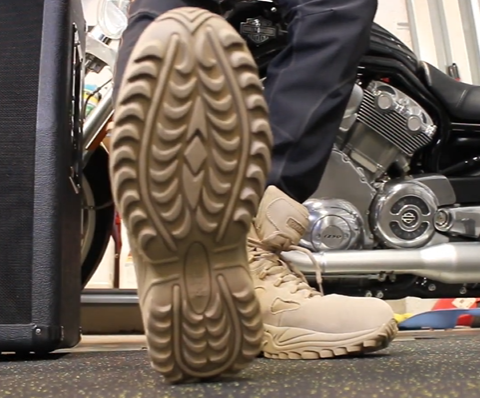 Removable F2A PU Cushion Footbed Insert: Removable F2A PU Cushion footbed inserts relieve arch pain, plantar fasciitis pain, heel pain, and back pain. The insert is designed in such a way that it helps relieve different foot problems caused by long hours of standing, walking, or running. The footbed is combined with a shock eliminator heel cushion, offering significant comfort.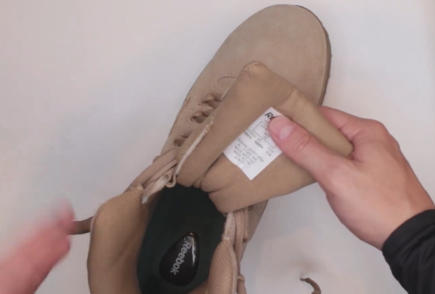 Extra-wide Toe: Impressively, the boots have extra-wide toes, which ensures a roomier fit. Thus, they help you improve balance and agility. This assists your overall movement with the control and strength that comes from additional traction. Moreover, your toes can spread out naturally for comfort. Also, extra pressure gets distributed evenly throughout the legs and joints, eliminating ankle, knee, and hip pain.
Nylon Mesh Lining: If your preference is lightweight work boots, this pair will be an ideal choice undoubtedly for its nylon mesh lining. This way, you can move easily. At the same time, nylon mesh lining offers excellent breathability, making these boots an excellent option in terms of comfort.
Why Should You Buy It?
The boots support your ankle with the help of a padded collar and tongue to reduce back pain. Breathable upper is made with durable materials to ensure breathability and long-term service. The rubber bottom is slip-resistant and provides expected traction on multiple surfaces.
8. Best for Climbing Ladders: Skechers Relaxed Fit Work Steel Toe Boots
When it comes to boots, the Skechers Relaxed Fit Work Steel Toe Boots are the CHAMPION! These are versatile for working in different conditions. Thanks to its extreme tread, providing excellent traction and helping you maintain good posture regardless of the terrain type. Shock-absorbing sole will also let you work for long hours without back pain when on your feet. More importantly, its elegant and sturdy design fits many outfits.
| | |
| --- | --- |
| | |
| + More colors | + More colors |
| Available Size: 7-15 | Available Size: 7-15 |
Skechers Boots Features & Benefits
Long Hours Comfortability: You can wear them for 10 hours without a break, and no discomfort will be there. The solid midsole absorbs shock efficiently and as advertised. Extreme comfortability, regardless of the wearing period, is the prime selling point of these boots. Removal of the footbed can also meet your comfort level and snug fit.
Safety Features: First, the boots come with a steel toe. More interestingly, the steel toe is not overly heavy to restrict your movement. Non-slip sole and electric hazard protection are the other 2 safety features to give you the best protection in the workplace. Falling objects, wet or slippery surfaces, or the risk of getting electricity, nothing can stop you from completing your work.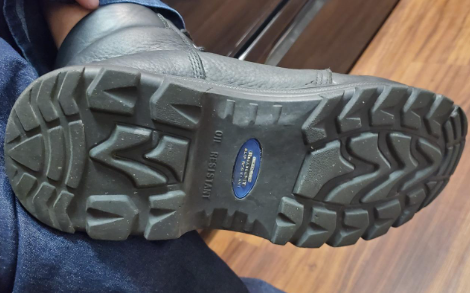 Great Ankle Support: If your work boots provide improper ankle support, you will start feeling pain in your back when standing for long hours. Happily, the ankle support of these boots is significant, and your back pain will reduce after wearing them. This support is a significantly vital link for your foot up to your hip for ideal performance on the job site.
High Enough Heel: The heel is not too high or too low, just the right height for ladder safety. Due to such design, you can easily negotiate uneven or mixed terrain, especially when going uphill or climbing up and down ladders. Moreover, additional arch support is confirmed for the high enough heel, assisting you in completing heavy outdoor work without hassle.
Durability: They are made of 100% leather to give you many years of efficient service. Being constructed with leather, these are highly breathable, allowing you to wear them without discomfort. Also, because of their extreme breathability, you will never experience blisters or hot spots during a long time wearing them. These are also lightweight and waterproof but not a good performer in heavy rain.
Why Should You Buy It?
These Skechers work boots are great with elegant styling and premium features. Quality materials are used in every part of the boots for added comfort and protection. Back pain, leg pain, and joint pain will be reduced for its high enough heel and required ankle support.
Why Is It Important to Wear the Right Work Boots?
Initially, you may find it difficult to learn the connection between your feet and back pain. There are 2 main reasons why wearing improper footwear is the cause of your back pain.
Boots that don't fit well let you walk with an unhealthy gait. Thus, an imbalance will form in your muscles, and your back will get more pressure when walking or running.
Your body alignment will fail due to a lack of arch support. As a result, shocks and impacts will lead you to back pain when walking or running on a hard surface.
Every part of our body is connected to each other. Proper function of a part hampers when the other part fails. When we move, each step affects our body. Now, if your work boots don't fit perfectly, your movement will surely be affected, finally affecting your body alignment, causing bad posture and leaving back pain.
When buying the best work boots for back pain, make sure that it meets the below points,
Comfortable
Provides required arch support
Fit properly
Best-suited for your job
Following the above 4 points can minimize 70 – 80% of your back pain at work.
Frequently Asked Questions
Does arch support help back pain?
Yes, arch support helps back pain by ensuring the alignment of your feet and body. Also, by wearing a pair of work boots with good arch support, you can maintain good posture when you walk or run for long hours. Good posture and perfect alignment between feet and body mean less back pain.
Can heavy boots cause back pain?
Yes, heavy boots must be prohibited as the wrong shoes can cause back pain. Stretch and pull of your ligaments can lead to tendonitis and back pain.
Is walking barefoot bad for your back?
There is a misconception that walking barefoot is bad for your back, but it is not true at all. Walking barefoot doesn't affect your back directly. However, you mustn't walk barefoot outside the home because it can cause problems like cutting, pinching, etc.
Are boots bad for back pain?
Properly chosen boots are not bad for back pain. Now, if you are wondering what boots types to choose, the answer is comfortable; proper arch support and properly fitted boots are good for back pain.
Which work boot is best for lower back pain?
The market has different models of work boots that are good for lower back pain. You can buy the Georgia Boot Men's 8" Safety Toe Logger Boot. It features polyurethane orthotic inserts that perform efficiently to reduce your lower back pain.
Summing Up
Back pain is part of our life, but that doesn't mean we have to live with it. You can't perform efficiently in your workplace with back pain, and it will affect every part of your life. In this case, wearing the best work boots for back pain is the prime solution.
If you are suffering a lot from back pain on the job site, I recommend you buy the Red Wing Men's Iron Ranger 6" Boot. It has a 6.5" high arch that provides needed arch support, releasing pressure from shine bone to minimize back pain. Also, the 100% leather upper confirms the durability of the work boots. In addition, the nitrile cork sole makes it lightweight, allowing flexible movement under different working conditions.