Sometimes it gets confusing to decide which boot is right for your job, particularly with the several options out there. So how to choose high-quality boots for concrete becomes the big question. If your job requires you to work on hard surfaces, then you must get high-quality boots out there.
But getting suitable ones for working on concrete all day is not easy, which is why we have put this article together. As your read, you'll discover how to choose the right boots for concrete surfaces, what boot types work well on them, and some frequently asked questions to guide you.
What Are Concrete Boots?
Concrete boots are special footwear designed to provide comfort and protection on rough or hard surfaces. Their design majorly concentrates on the sole and material used.
The following are features of a typical concrete boot:
Material: Concrete boots are made of pierce-proof materials to prevent sharp objects or dangerous roofing materials from puncturing through the boot build.
Waterproof: A proper concrete boot is completely waterproof to keep the feet dry and safe throughout the day. They are a perfect substitute for your work shoes in warmer weather conditions.
Hard plate: A concrete boot has a hard plate material fixed into its front part to protect the toes from weighty falling materials and impact against hard objects.
Anti-slip/shock-absorbing Soles: This feature is non-negotiable for a roofer, as it prevents the user from sudden trips and falls. The outer part of the sole is hard enough to withstand scratches, while your feet get more arch support from the soft interior build. The integrated design of the outer and inner parts of the sole is what gives the torsional support and shock-absorbing experience.
Odor Control: The interior part of most concrete boots is made of fabric lining that has an anti-microbial treatment to curb odor from the boots.
Why Do You Need Work Good Boots For Concrete?
Good work boots for concrete protect the feet against environmental hazards that the user may be exposed to and the chemical effects of the concrete. Also, they give cushioning to the feet, which cuts off the pain and hard impact with the concrete to the feet.
Here are the main reasons you'll need good concrete boots in your work:
1. Support
A long work period on concrete can wreak havoc on your feet and legs, especially as a concrete worker. The good news is there are concrete boots designed to handle such tasks and make you feel more comfortable. The best boots for concrete workers usually have heel support and a built-in arch that keep your feet in a safe condition all day. Also, they come with torsional support and shock-absorbing feature to increase the safety of your feet.
2. Improved work performance
The integrated features of concrete boots dramatically improve the way you work. It may not be obvious initially, but in time you will notice that your attention is gradually drifting away from the discomfort you felt. As a result, you tend to focus more on things that matter most on the job.
3. Protection
To think that you don't need concrete boots at work is the biggest mistake anyone could make, as virtually all industries or work sites are not immune to sudden accidents. Concrete boots protect against inevitable workplace injuries. As with any worksite ethics, safety is always the first consideration.
4. Feet Safety
Weather conditions and the chemicals in the concretes are the quickest things that can affect your feet even when you are most careful. Standard footwear will not keep your feet safe from these elements; this is where these safety boots become effective.
The built-in ventilation due to the moisture-wicking lining from the material keeps your feet air-conditioned in the hot sun. While that seems okay, the waterproof material also keeps the chemicals in the concrete from touching your feet.
5. Reduced risks of trips and falls
One of the involuntary occurrences on worksites is tripping and falling, which can be enough to ruin a whole day's job. But with the right concrete boots, you can easily reduce the risk of this occurring regardless of the amount of time you spend on concrete surfaces.
6. Durability
The materials that make up these concrete boots work together to promote performance and durability. In addition, concrete boots are designed to last long.
7. Reduced chances of fatigue
Working with regular boots on concrete floors offers less cushioning. And because you spend lots of time standing and working, it might result in quick fatigue. But presently, there are improvements to this caveat as technology advances. The cushioning on modern concrete boots through the design and materials keeps your toes and heels in good condition, allowing you to work for a longer period.
What Type Of Boots Are Good For Concrete?
The most efficient boots that are good for concrete surfaces are those that possess slip resistance, lightweight, and provide support and stability. Coupled with flexibility, breathability, and capability to withstand the test of time.
Below are the major types of boots that are good for concrete:
Slip-resistant
There is exceptional traction in these concrete boots, such as you won't find in ordinary boots. The additional slip resistance and grip of these boots are due to the thick and soft rubber outsole they have. This is what is responsible for the stability of water-soaked and oily concrete floors.
The soles of these concrete boots are made thick enough to resist shock and contain hard impact than those of regular boots. The slip-resistance feature is the reason these concrete boots are the most comfortable choices out there.
Safety Toed
If you seek the most common concrete boots available on the market, these safety-toed boots are the best bet. They offer maximum protection to the toes, hence the name Safety Toed.
Most of these concrete boots have an in-built steel cap fixed in the front part of the boots. However, some other materials are used in place of steel due to the weight the steel caps add to the boots. Although steel caps make this boot type cumbersome, they are still the best material regarding maximum protection for the toes.
Insulated concrete work boot
This is the best option for cold and hot weather conditions. The insole work boots are specifically insulated to keep your feet comfortable in hot weather and to offer them a level of warmth in cold weather conditions.
The insulated part of the boot comes on top of the other designs and features added to it in order to deliver its maximum function. So if you work in an environment where extreme cold or heat is extreme, this concrete boot should be your best choice.
Plain concrete boots
From the name, 'Plain' implies that the shoes are carved out from the same material as steelwork shoes but will lack the steel cap. But not having the steel cap does not make this boot type is any less to the others. On the contrary, having a material similar to that of a steelwork shoe gives this concrete boot an edge over regular work boots.
The main plus to the plain concrete boot over regular work boots is that it provides comfort when used for light-duty and simple garage jobs. Also, they are quite lighter in weight than the safety-toed concrete boots.
How To Choose High-Quality Boots For Concrete
Many construction workers and laborers face some physical health conditions resulting from intense labor on work sites. The truth is, a long time of work on construction sites can make the most out of anyone. But with a pair of suitable concrete boots, you can change all that. This is why you must be familiar with how to choose high-quality boots for concrete surfaces.
You will find the following tips helpful in choosing the right concrete boots for your job:
1. Water resistance and insulation
Water-resistance or repellant properties are necessary for wet and muddy construction sites. In drier environments such as desert or cement factories, work boots having breathable lining are most suitable.
Insulating work boots is more or less a common feature on most work boots. Concrete boots are no exception, as they are well insulated to keep out heat or cold, depending on the weather.
2. Sole quality
Given that the main wall between the concrete and your feet is the sole of the boots getting some work boots having very thick soles will be essential. A properly designed sole acts like a shock absorber. Meaning you get a feeling of comfort with every step you take.
This part of concrete boots is vital, and care is required for the right decision. This is because the heel is the first thing that makes an impact on the ground, so a durable, thick heel will give you the necessary support you need. There are two types of soles for concrete boots available in the market: wedge and normal heels. Now, the wedge sole helps with the evenness of weight throughout the boots, while the normal heels provide extra support for your feet.
3. Insole construction
Usually, work boots have a specific type of insole called the stock insole. But that is not the case with the present-day concrete work boots. The insole construction is a lot denser and more breathable since it's the part of the boot that shields your feet from the rough surface beneath it. Different feet have diverse arcs, widths, and shapes, and so do concrete work boots. Knowing the arc, shape, and width of your feet will go a long way in deciding the right fit for you.
4. Lightweight
Long hours on concrete surfaces with weighty work boots can pose stress to your feet and legs. Consider getting lighter boots that will reduce foot fatigue and promote better performance. You don't want to drag your feet all day, thereby causing excessive pains after work.
5. Toe safety
Excellent concrete work boots must have in-built hard plates for toe protection. Although the toe safety measures add little weight to the boots, it is worth the risk than being vulnerable to hazards. A composite or steel toe is the perfect option for light work boots.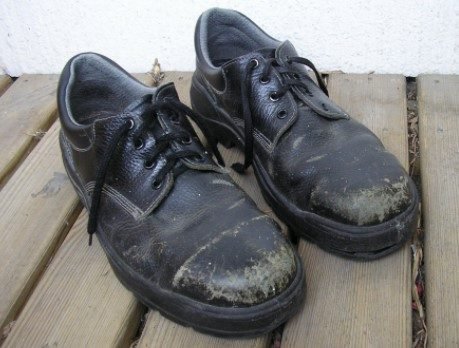 6. Snug-fitting
Nothing gets worse than having the wrong shoe fitting. To carry out your job perfectly, you will need the right fitting for your feet. The boot mustn't be too tight and must not be too loose either. So, you must ensure to get a snug-fitting set of boots.
One thing you can do is avoid zippers or Velcro boots. The best option is concrete boots that go higher than your ankles. They hold the contour of your feet, thereby preventing them from wiggling.
7. Slip Resistance
Working on smooth wet concrete surfaces can be quite risky and may result in fatal injury. In your decision to choose high-quality concrete boots, ensure the soles are slip-resistant. Slip-resistant soles are designed to redirect water from the parts of your feet that exert more pressure. They help you maintain contact directly with the ground while they prevent water from going through to the sole.
Frequently Asked Questions
What Boots are good for standing on concrete all day?
The best concrete boots are those that provide safety, breathability, comfort, and non-slip properties. Furthermore, they are capable of providing a firm grip of the feet, flexibility, and soft texture and are light-weighted to aid easy movements.
Are Wedge Boots good for Concrete?
Wedge boots are a great choice on concrete surfaces as they help reduce the pain of walking on rough surfaces. This is feasible through the hard slab rubber-like material beneath the boots' heels that absorbs shocks and aids comfort.
Does every concrete boot have a steel toe?
Not every concrete boot has a steel toe, as there are several boots out there designed specifically for light-duty jobs. However, certain work boots come with composites or plastic toe-caps that offer a measure of safety to the toes.
How do I select the right boot size?
To get the right fit for your needs, you must ensure to check all the requirements, given that each boot size has its specific requirements. Then, as you shop, watch the checked list and confirm the product covers it all.
What outsole is the most durable?
The preferable outsole for any concrete boot is the TPU or rubber. These two different soles offer a high grip and traction while also water and oil-resistant. Moreover, they have good abrasive resistance necessary for outdoor jobs.
Final Thoughts
Standing and working on concrete surfaces all day does not have to be painful. Following our guidelines on how to choose high-quality boots for concrete will help you overcome the discomfort of working on such rough surfaces.
Always bear in mind that your work boot must fit snugly to ensure the best result. It mustn't be too tight to cause discomfort and mustn't be too loose to cause leg pain.