Long ago, workers preferred to use Doc Martens due to the comfort and air-cushion of the soles. But as time passed, they started wearing them for different occasions and seasons. People can wear them on snow, in the rain, or even on ice. But are doc martens good for snow? Can you really wear them without damage from the moisture?
Doc martens are good for snow. But you have to make the right selection. This is because the shoes are made with thin leather and are not insulated. If you want to wear your doc martens on snow, you can wear them along with a pair of socks. Also, you must know how extreme the weather conditions are before using the shoes. They're better for where the ice and snow are minimal.
This article contains all the information you need on using and maintaining your Doc Martens. Find more details below!
Article Summary:
Doc Martens shoes are good for snow. You also can make your Doc Martens waterproof by using beeswax or a waterproof spray.
They are most times confused for combat boots because of their combat style.
You can wear your Doc Martens in the rain, but not for long.
Doc Martens can last for 20 years and even more if you properly store and take care of them.
They are made with thin leather and are not insulated.
You can wear your Doc Martens without breaking them in.
Are Doc Martens Good For Snow?
It's okay to use Doc Martens boots in snowy areas. Its slip-resistant soles can provide the traction and firm grip on snow. By that, the user can walk on an icy surface without falling or slipping.  However, when the weather is extreme, these boots may struggle with holding enough grip.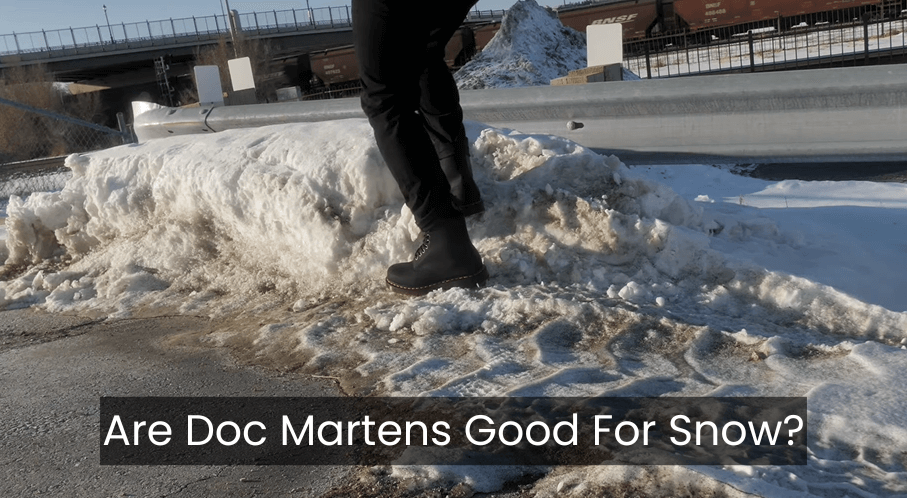 Doc martens might be stylish, but the soles are not suitable for extreme weather. Some reasons you shouldn't wear the classic doc martens on snow include the following:
The leather is Thin
The usual doc martens come with very thin leather that can't withstand the impact of a thick snow. Its material does not insulate like the thick leathers out there. As a result, it is quite easy for water to saturate it.
Water can damage the leather
The classic Doc marten's leather can crack easily when saturated with water. If you spend a lot of time walking on snow, at a point, the snow will melt and saturate the shoe. When that happens, the leather gets soaked and cracks. Unfortunately, when the boots dries, the cracks will be visible
It doesn't protect your feet
The truth is that when you stand on the snow for too long, and it melts, the water will seep into the shoes and wet your socks. When that happens, you'll be at risk of catching cold due to your wet feet.
The 1460 brand of the doc martens is made waterproof, has great traction, and is good for rain and snow. This is because they are made with a double lining of faux fur and fleece to help keep your feet a bit warm. But if you want to rock your doc marten in the snow, you can wear them with thick socks.
Doc Martens Winter Shoe Collection
If you wish to get some Doc Marten brands for the coming cold season, we'll take you through the different winter shoe collections available. Doc Marten winter shoes come in different collections, ranging from small sizes for kids to adult men and women. Check them below!
Fur Lined Boots
The Fur-Lined collection of the Doc Martens boots is designed to leave the feet warm even in cold temperatures. This is possible through the insulation of the boots. Also, the materials used are other factors that guarantee the warmth you feel when using these boots in chilly weather conditions.
Waterproof Boots
Many people often come up with the question, are Doc Martens waterproof? Well, certain collections of this boot brand are made waterproof. You can purchase a pair of these boots to leave your feet dry on a rainy day. What makes this feasible is the treated leather designed to take you through different wet conditions. These include spills, rain, snow, and the like.
Winter grip Boots
If you've been searching for some great winter boots, here's your final checkpoint. This collection is constructed with unique technology that involves rugged winter-made uppers. As stated by the manufacturer, these shoes have great traction, making them suitable for walking on slippery surfaces.
Are Doc Martens Warm?
The doc martens are not especially warm, but they have a brand that can keep you warm. It is called the warm air. It can keep you warm, a little base on the faux fur design. Not all brands can keep you warm; however, wearing a thick winter sock can help too.
As you may already know, this set of shoes comes in several collections. Each one is suitable for a specific purpose. For keeping the feet warm, they have the warm air collection, also known as Fur-Lined boots. Here's a little description of the warmwair Doc Martens collection.
Warmwair (Fur-Lined) Boots
The warmwair collection of the Doc Martens boots is constructed specially for the typical winter season. In a situation where the weather condition is snowy or cold, you can trust this set of boots to keep your feet warm. What's more, the warmwair collection comes in two different categories. They include the fleece made, which is slimmer compared to the faux fur with a thicker appearance.
These two categories are specially designed to keep the feet warm despite the coldness in temperature. Also, they come in waterproof leather, intended to leave the feet dry. As such, wearing them in snowy weather is not out of place.
Are Doc Martens Slip-Resistance
Doc martens are slip-resistance. These boots were designed for construction workers where safety is the primary concern. It is suitable for construction sites with oil spills and wet surfaces.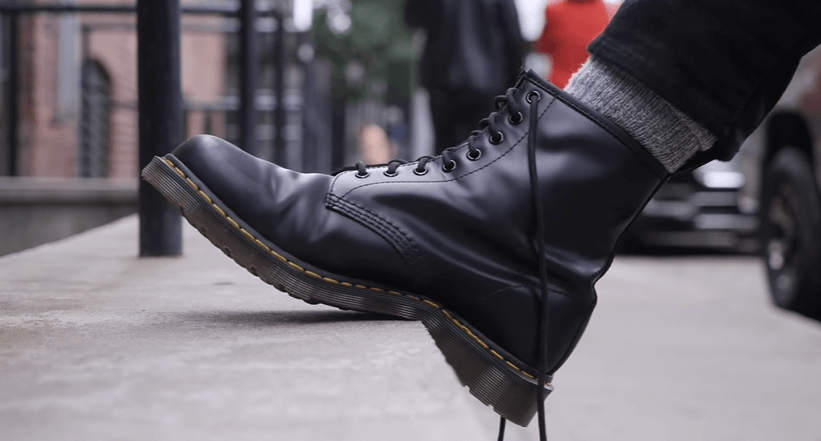 Doc martens have chunks and grip track soles which offer good slip resistance. The grip track sole is designed to resist any kind of surface. From the feature of the boot, you'll know that doc martens have good grip and are also slip-resistance.
Doc martens grip track can last more than 10 years, and it will still be slip resistance as the first time. The sole is made up of tiny air bubbles that cushion every step. You can walk on rainy pavements with no fear of slipping.
Lately, doc martens have improved in some of its collections. They've enhanced the soles and made them useful during the snow.
Furthermore, you can keep your doc martens from slipping by
By walking over a rough surface. This will give additional texture to the outsole and create a better grip.
Get a traction spray and apply it to the outsole. The traction spray provides additional traction, making it slip-resistant.
You can apply ice grips in icy conditions. Apply the icy grip to the outer sole to give a better grip when walking on ice.
Are Doc Martens Comfortable?
As soon as you break your doc martens in, you will enjoy great comfort. The boots will shape to your feet after about four to six weeks. Making them the most comfortable boots you have. The doc martens make walking comfortable as well. Once you have broken in, the leather of the boot will mold to your feet without rubbing it while walking. Despite their chunky look, they don't feel heavy when you walk with them.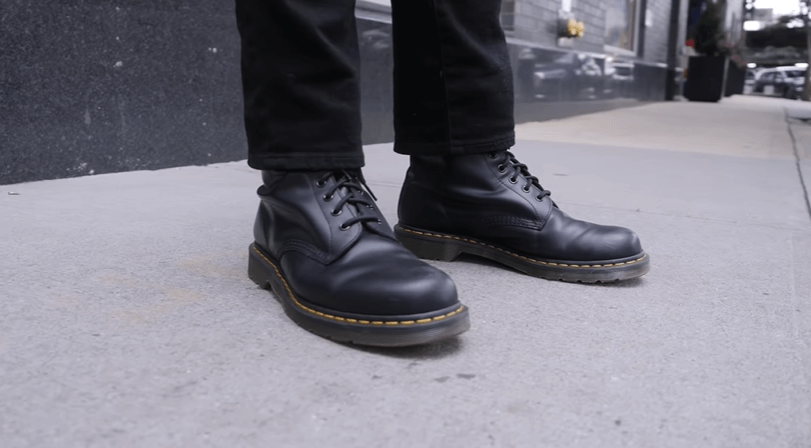 Doc martens are breathable, which helps your feet from sweat. Working for long hours without breathable boots can cause disaster, and protecting your feet with durable doc martens is essential. Doc martens are also comfortable for people with wide feet. There is enough space to wear a pair of socks with wide feet. You will never experience discomfort while wearing doc martens, even with your wide feet.
When you get a doc martens footwear, you're sure of comfort even when walking for long. If you need footwear that is unique in style with little or no effort, then go for doc martens.
How To Break In Doc Martens Fast?
Breaking in your doc martens might be longer and even more painful. But the result will give you the comfort you desire and erase the pain. To make it easier, you can start with getting the right size. You can then use a thick pair of socks for the initial days.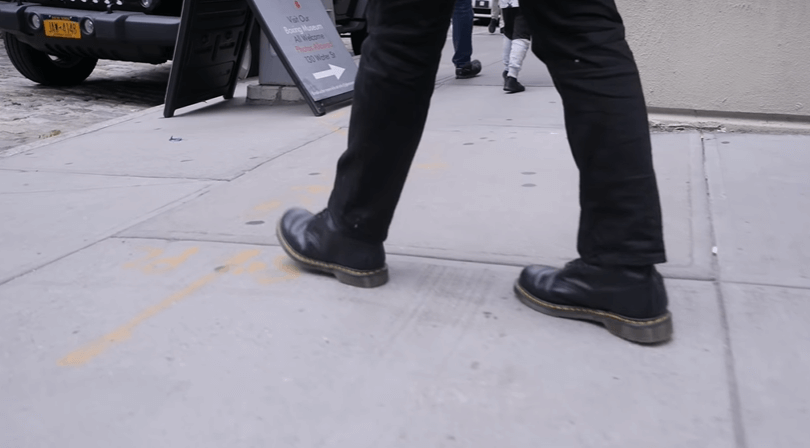 Here are steps to break your doc martens:
Getting the right size:
Getting the right size is the very first step to breaking in. Try them on to make sure they're the right size; boots with the right size should be tight yet comfortable. If you feel uncomfortable as soon as you try it on, then it is too small.
Put on a pair of thick socks:
The pair of socks will widen the doc martens to break in a bit faster. It helps to reduce friction, thereby protecting your feet from the blister.
Walk around:
Work around the house with your doc martens for about five to ten (5-10) minutes. Don't wear them for long. Once the boots start hurting, take them off.
Protect where there is pain
Protect those areas where you feel pain. Areas where you have redness or blister, you can cover those areas with a bandage. You can wear your doc martens around the house for a longer time once you've protected the blister. Take off again once they begin to hurt.
Repeat process:
Wear your doc martens around the home every day for about three to six weeks (3-6). If you feel comfortable, you can wear them out on short walks. You can also apply balm once a week.
Speed Up The Process
You can as well speed up the process with the following steps:
Use a balm
Take off the boot lace and rub the leather with a balm. The doc martens wonder balm will help to make it softer. The balm helps to break in your new boots to alleviate discomfort. It also can shine and nourish the shoes.
Take out the insole:
Doc Martens are made of an inner abrasive material that causes a blister. You can take the insole to remove some frictions and prevent blisters.
Hit the heel with a hammer:
First, wrap the boots with a towel and hammer around the heel and sole of the boots. If you are not careful, it can damage the leather of the boots; hammering can reduce the smoothness of your doc martens. So you can instead use a mallet
Stock with newspaper:
Get as much newspaper as possible and stock them into your boots. It will help stretch the toe box of your doc martens. You can also get a boot stretcher to get the same effect.
Use a hair dryer:
Wear your boots with thick socks and apply a balm on the boot. Now heat the boot with a hairdryer to quickly melt the balm into the leather. Keep wearing the boots until they are cool. But always use the low setting on the dryer to avoid scalding the leather.
Are Doc Martens Waterproof?
Doc Martens are not waterproof. However, they can resist light drizzling rain, but not longer than 5 minutes. If used for a longer period under the rain or submerged in water, water may get in through the seams.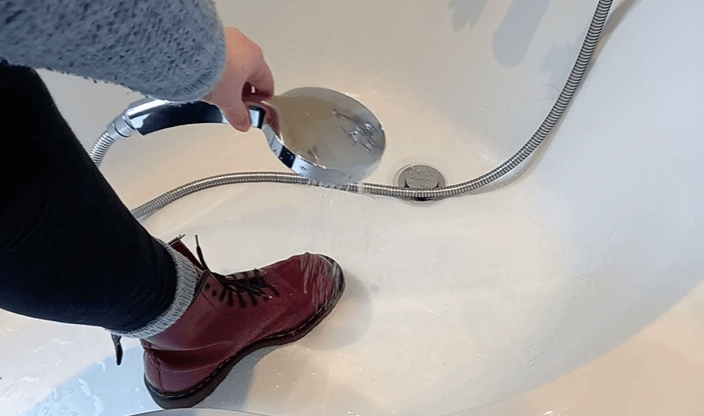 When you decide to find yourself a pair of stylish and durable boots, the first brand that comes to mind is Doc Martens. The perfect sole and eye-catching yellow stitching make them irresistible. They create a statement that no other boot can replicate. Doc Martens are so comfortable that they can take the place of your favorite sneakers.
Being one of the most famous shoes in the world, you might be tempted to believe that Doc Martens are waterproof. But they're not. Thankfully, there is a way you can enjoy your Doc Martens under the rain or in a waterlogged area. This is by artificially making your Doc Martens shoes waterproof. In this article, we'll discuss how you can make your Doc martens waterproof.
How to Waterproof Doc Martens Shoes
Waterproofing your Doc marten shoes can be done by either using beeswax or waterproof spray. Although they serve well as boots for sweaty feet, you still need to waterproof them to enjoy a dry foot.
Outlined below are a few guides on how you can waterproof your Doc Martens boots.
Using Beeswax
You can use beeswax to waterproof your Doc Martens shoes through the following simple ways;
Step 1: Get some beeswax and place it in a stainless bowl. Put it over your gas cooker and gradually melt it.
Step 2: Upon melting, get a clean towel and a clean brush. Use the towel to wipe the leather boots. Then use the brush to apply the melted wax to the leather boots. Avoid applying the wax on the boot lace.
Step 3: The wax should start to solidify and turn white on your Doc Martens boot. Use a candle or propane torch to apply heat to the wax.
Step 4: Applying the heat, the leather will absorb the wax as it melts on it. This will make it shiny and give it a new look.
Step 5: Apply an additional amount of wax to the seam areas of the shoes.
Step 6: Get some water and pour it on the boot. If the water sips in, then you need to repeat the process all over again. But if the water falls off the boot, bravo! Your Doc Martens shoe is now waterproof.
Using Spray
You can use a waterproof spray to make your Doc Marten shoes waterproof with the following simple steps.
Step 1: Use a clean towel to wipe your Doc Marten shoes properly. Get rid of all dirt on your Doc Marten shoes; ensure you take off even the ones that may have settled in.
Step 2: Hang the boots where you can access them easily to remove them and also turn around while spraying.
Step 3: Give yourself a distance of about 6 to 8 inches from the boots. Then get the waterproof spray and start spraying.
Step 4: Spray consecutively around all parts of the boots. Pay more attention to the seams of the boot.
Step 5: Once done, allow them to dry. Although unnecessary, you can apply the spraying repeatedly for better results.
Are Doc Martens Considered Combat Boots?
Doc Martens, as mentioned above, is one of the most popular shoes. Known for its class, design, and durability. Due to its shape and design, it's sometimes mistaken for a combat boot. Dr. Martens 1460 is a perfect example; it is a combat-style boot.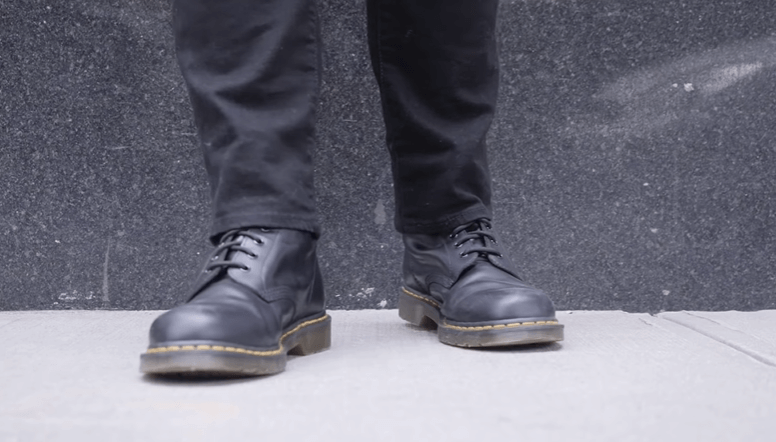 It looks like a combat boot but lacks rugged and practical qualities. Qualities like a steel shank, quality stitching, and strong leather are lacking in it. Also, its shiny upper feature, transparent outsole, and yellow sole stitching make it stand out in the fashion world.
Therefore Doc Martens are not considered combat boots. They lack rugged and practical qualities that make a combat boot. You can wear them as an alternative.
What Makes a Good Combat Boot?
A combat boot determines the life and death of a combatant because his feet are his greatest assets. When they jump from a height to the ground, their feet remain their source of survival. This is why a good combat boot is paramount to determining their precision and speed.
Here are some factors that determine a very good combat boot:
Material
Genuine leather is necessary because it can outlive synthetic materials and give outstanding water resistance capacity. Its textile is breathable, making the leather durable. This is paramount for a perfect combat boot.
Weight
Considering the long hours the combat boot will be worn, it ought to be as light as possible. The light weight of a combat boot helps the user withstand the pressure of a combat task. The lightest combat boot is around 2.2Ibs.
Protection
This boot's cushioning should minimize pains and aches while standing, walking, or running for long hours. The leather should be strong enough to prevent sharp objects like nails and needles from piercing through the boot. The insole should be removable for comfort, and the outsole should have anti-slip to make it steady on the floor.
Frequently Asked Questions
How Long Do Doc Martens last?
Doc Martens shoes are famous for their durability and robust structure. They can last between 5 and 20 years if handled with adequate care and stored correctly. They can also last beyond 20 years if you waterproof and condition the leather.
This will help soften and prevent cracks. The sole of the shoe is also very important. Replacing it regularly once it wears down will increase the life span. Furthermore, observing good personal habits while using your Doc Martens is advisable.
Avoiding uneven footfalls and dragging your feet will also guarantee a longer duration. No shoe can last forever. However, some have longer durability compared to others. Also, some factors can determine how long a shoe will last. These factors include how and where you store your shoes and how often you wear them. And also how you care for them.
Can You Wear Doc Martens Without Breaking Them In?
You can wear Doc Martens without breaking them in if they are your actual fit. Also, if you want to cherish them better forever, you can break them in before wearing them. When you break them in, they will also wrap around your foot with softness and protect it. Breaking them in gives you a different feeling and style.
To break the shoes in, wear your shoes for two hours a day, preferably in the morning. After a week, increase the hours of wearing within the house. Put on double socks, then wear your Doc Marten for repeated hours daily. This will help widen the shoes and prevent blisters from the shoes.  Bend and stretch. Flex your toes around to the heel, repeat consecutive times, then smoosh the fold line down.
Will Snow Ruin Doc Martens?
Snow will not ruin Doc Martens because they are made with durable materials that can resist water. However, if the snow is much and the Doc martens have not been treated to resist water, the snow, will melt and sip into the shoes. It is advisable to wear waterproof Doc Martens if going into the snow.
Are Doc Martens Supposed to Hurt at First?
Doc Martens are not supposed to hurt at first. They could feel tight, but they soften and stretch as you wear them over time. The boots come in different sizes and designs. First, you should know what size you wear, then purchase the actual size. The actual size could be tight at first, but should not be uncomfortable. If it hurts, especially in width, then the shoe is too small.
Conclusion
Getting the right type of shoe for snow is usually challenging. Most of them appear strong, but fail when submerged or exposed too long in the snow. But are Doc Martens good for snow? Can they wear their favorite shoe in the snow?
We've discussed how you can safely wear your Doc Martens in the snow. The first important thing is never to expose them to too much snow. But if you must, first waterproof the boots to protect them. Moreover, you can grab one of the winter collections to be safe.