Selecting the wrong pair of shoes can be annoying and unhealthy for your feet. It is very hard to choose the best-suited shoes in today's world. However, if you plan to get Vans, you may naturally wonder whether Vans are bad for your Feet.
Vans can be either good or bad for your feet, depending on many variables. Yes, the user's feet type, shoe type, size, and purpose of wearing the Vans determines whether it will be good or bad. Hence, there is no solid verdict for vans to be bad for your feet.
According to the Podiatrist, judging a shoe by its aesthetics and short-term usage is wrong. To know all about the compatibility and usability of the Vans shoes, you need to read this article entirely.
Article Summary:
Vans are popular for their looks and aesthetic design. It is compatible with most outfits.
Selecting the wrong type of Vans can be hurtful for your feet. Because there are multiple types of Vans shoes available.
The best-suited shoes require the best size according to your foot type and size.
Not all feet types are compatible with the Vans shoes. Hence it is better to avoid them to refrain from pain and uncomfortable feelings.
Are Vans Bad For Your Feet?
Footwears nowadays are made very cautiously doing extensive research about the design, construction, support, longevity, and purpose. Vans shoes impact the design and aesthetics more than the users' medical benefits and foot support. For this reason, Vans shoes can be bad for you if you use them at the wrong time and for the wrong purposes. Besides, there are other reasons Vans can be bad for your feet at some points.
For Wrong Size Selection
It is very important to choose a shoe judging by its size matching the actual size of your feet. The slightest difference in size can lead to hurting the feet while using for a long time.
Duration of the Usage
The Vans shoes are mostly of textile or garment lining and upper covering. Therefore, Vans' breathability rate is lower due to a lack of mesh layering. It leads to excess heat stored inside the shoe cavity. As a result, using Vans for a long time causes an uncomfortable feeling in your feet. Moreover, if you face hyperhidrosis, then using Vans can be bad for your feet due to excessive sweating.
Purpose of using Vans
If you are using Vans for the wrong purpose, it is natural shoes will negatively impact the feet. The Vans are designed for soft uses such as walking, jogging, commuting, cycling, etc. Thus, if you use these for trekking, hiking, extreme mountain biking, and running, it can cause damage to your feet and spinal posture.
Different Foot Type
The Vans shoes have a narrow toe box. Although most common foot types are compatible with Vans, excessive wide feet can be problematic. It is better not to wear Vans shoes if you have a very wide toe. This may result in long-term discomfort. The boots for wide feet are suitable for cases.
How Many Kinds Of Vans Are There?
Many users do not know about the availability of different types of Vans. If you are one of them, it would be surprising for you to learn that Vans have different styles and types of shoes. Hence, judging a specific type or model of a shoe will be unfair based on a negative experience. There are skateboarding shoes, casual wear sneakers, high-performance shoes for men and women, etc.
Among these, some popular series of vans shoes are as follows:
Vans Steve Caballero
Vans SK8-Hi
Vans Casual Slip-On
Vans Old Skool
Vans Era
Vans Authentic
Differences in the models of Vans also have differences in performance. That is why it is better to inspect and choose the best suitable shoes for your feet to avoid discomfort.
Features Of Vans Shoes
The features of Vans shoes are many. Each of these features makes walking and wearing Vans shoes comfortable. But, you should know about features beforehand to make sure no side effects will be caused, and it won't be bad for your feet.
Fabric Making
The Vans shoes' upper covering, side covering, and linings are made up of high-quality fabric material. It polishes the aesthetics of the shoe and enhances making the shoe lightweight. If you have a bunion, this type of construction helps you. Hence it answers your question that are vans good for bunions.
Rubber Outsole
Vans shoes have synthetic rubber-made outsoles. It increases the comfort of the shoes while doing light activities such as walking and roaming around in the workspace. Moreover, it increases the durability of the shoes. A flat surface with a rubberized pattern increases control over traction and makes the shoe anti-slippery.
Subtle Design and Aesthetics
The Vans shoes are made for people of all ages. It can be worn by a teenager and middle-aged people. Besides, an all-around design, and color pattern, make it suitable to go with most causal types of outfits. Some of the models can be worn in commercial places.
Versatile type Of Closure
Though most Vans are lace-type closure systems, it helps you have a good grip and control over your foot's movement. Besides, you will also get slip-on type Vans shoes. These types are beneficial for quick wearing and short-time movement on the street.
Are Vans Good For Wide Feet?
Some features of Vans shoes can go against wide feet. The Vans shoes are designed with flat outsoles. Along with that, a comparatively narrow toe box makes it even harder. Therefore wearing it with wide feet can be very uncomfortable.
But it is true for some of the models of Vans shoes. Not all Vans shoes are made against wide feet, people. The slip-on types of Vans shoes have more space inside the toe box. Its stretchable sidelining also makes enough space to accommodate wide feet.
The most important factor to keep in mind while getting Vans shoes for wide feet. Some people do not take the size of shoes seriously. Having true-sized shoes can give you support if you have wide feet.
Why Do Vans Hurt The Back Of My Foot?
It is a common questionnaire from Vans shoe users about hurting the back of the foot. This can happen for several reasons. Both Vans design and making and wrong shoe selection can primarily cause the back of the foot to hurt.
Flat outsole
One of the drawbacks of Vans shoes is the flat outsole. It results in no arch support for the bottom of the feet. The pressure distribution of body weight falls on the back of the feet rather than equally distributed. This imbalance of pressure on each side of the foot results in hurting it.
No height difference between heel and toe
The heel height and toe height of the outsole are almost identical to Vans shoes. To reduce pressure from the back of the feet, some pressure requires shifting on the toe. But it does not happen in Vans which results in hurting the back of your feet while moving with Vans.
How Do I Stop My Vans From Hurting My Feet?
If you are facing some serious trouble using Vans shoes on your feet, you should take immediate action. It can be detrimental for your body posture and feet to keep on wearing faulty shoes.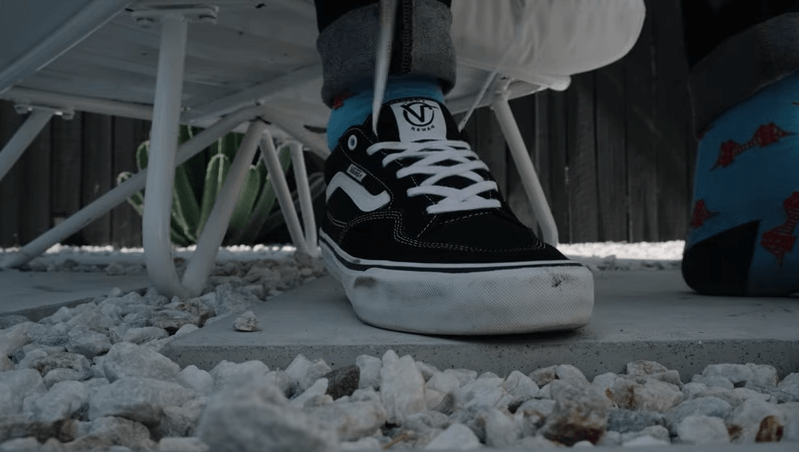 Identify the source of pain
You need to go for a trial and feel which part of the shoe is causing pain to your feet. You can also use different models and series of Vans shoes to make a  permanent replacement of shoes.
Use the correct size
Getting shoes online is a very tricky thing to do. Most brands of shoes have different size charts and follow different units. Even though you select the true size of shoes online, it is common that you may end up getting wrong sized pair of shoes.
That is why you should purchase Vans shoes from a flagship store or dealers nearby you.
Put On high-quality socks
It is a common phenomenon with new shoes that it will leave blisters on the upper heel of the feet. To avoid this, you need soft, stretchable, and breathable socks with Vans Shoes.
Walking with Vans Shoes, especially a slip-on type in barefoot conditions causes such cases.
Modifying Shoes
You can add extra padded layers on the footbed, designed especially for you by professionals. This will help your feet shape to adjust with Vans shoes.
Why Do Vans Get So Much Criticism?
It is a common phenomenon that popular brands and companies are more often criticized. The criticism can be either positive or negative. But in the case of Vans, mostly negative criticism is seen due to various reasons.
Increased popularity
Vans shoes have become more popular in the footwear section worldwide. Due to increased competition in the global market, competitors can use negative reviewing techniques to rumor about the bad effects of Vans.
This initiates a chain reaction, and the psychology of general people toward Vans becomes negative even before using its products. For this reason, you should focus on real-time facts and user reviews rather than judging blindly.
Improper designs of the Vans
The fact that Vans shoes have a flat outsole with a narrow toe box is undeniable. Its lacking of arch support for feet causes discomfort to users.
Lack of innovation and improvement
Even after facing a lot of criticism globally, there are lackings in improving the shoe designs and making them more comfortable for the users. The poor response from Vans to its customer complaints causes more criticism.
Frequently Asked Question
To know more about real-time user's questionnaires regarding "Vans" repose to foot health, the following FAQ would help you.
Can Vans damage your feet?
Vans can cause damage to the muscles and joints of your feet. If Vans shoes are not supportive and you use them for a long time, the normal posture of your feet will be compromised. Besides, you will experience constant pains below your feet, on your back, and in your joints.
How long does it take to break in vans?
A new pair of Vans may take around one or two weeks to break in. which may your why do vans hurt my feet. The break period can be variable depending on the style, shoe type, and foot type. You can accelerate the break-in time for Vans by waling wearing them in a house for an hour or two every day. Using a high temperature of a hairdryer can also cause quick breaking in Vans.
Do vans have arch support?
Most Vans do not have adequate arch support. It is because of using a completely flat rubberized outsole. Lacking extra padding on the footbed also causes an impact on not having arch support beforehand. Due to minimal arch support, vans face criticism from customers.
Are vans good for flat feet?
Vans shoes mostly contain a flat outsole. The flat outsole works great with people with flat feet. Vans for flat feet give them better balance and control. Besides, they can have more control over the traction due to minimal arch support. An equal height of the outsole on both ends makes it better for people with flat feet.
Are Vans good for being on your feet all day?
Vans are good for being on your feet all day long if you feel comfortable, no blister or anything. But if you experience any discomfort wearing Vans, it is recommended not to wear Vans on your feet all day long. You should be extra careful while getting a vans shoe and do some trial runs wearing Vans. It will help select the best sized and suited vans shoe for your feet.
Are vans comfortable for work?
Vans are comfortable for office work. The lightweight, flat outsole soft fabric constriction makes it suitable for long-term desk work. Use true-sized Vans shoes to get better and long-term comfortable results at work. However, Vans are not suitable for work such as being a nurse, surgeon, physical trainer, etc.
Conclusion
You may find different criticism about Vans online and offline. Most of them are not true, though. Only first-hand experienced people can give you a better answer that is bad for your feet. Instead of trusting people's judgment blindly, you should know the in-depth facts about why Vans face such criticism and overcome those.
This way, you will be positive about getting Vans shoes and use them comfortably. Now that you have learned about the facts, it will help you make a better decision to purchase Vans.